Before the scallywags arrive, check out some sea-worthy ideas for planning a pirate themed party for your child. I've listed lots of generic pirate party ideas, which you can easily tailor to the movies if you want.
Remember, a pirate birthday party isn't just for boys. There are plenty of girls who will love these pirate party ideas too. (In Fact there are some great girl pirate supplies available). So don't feel as though you have to include princesses just because it's a mixed party.
PERSONALIZED INVITATIONS
There's a good selection of pre-designed invitations available that compliment these pirate party ideas. These can be personalized online and some even allow you to upload a photo of the birthday boy or girl. See a full range here.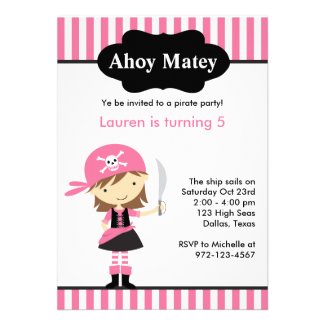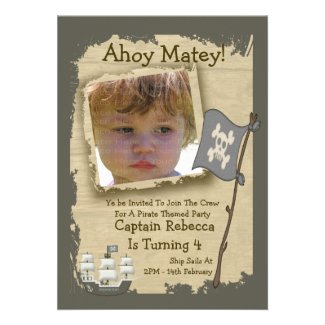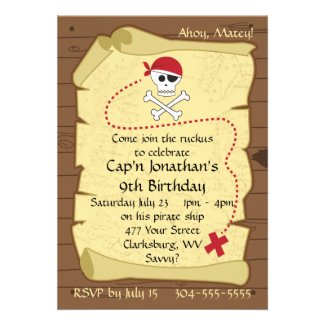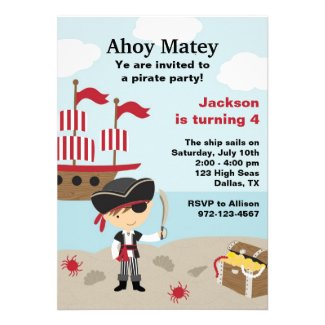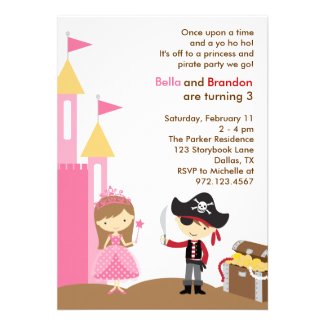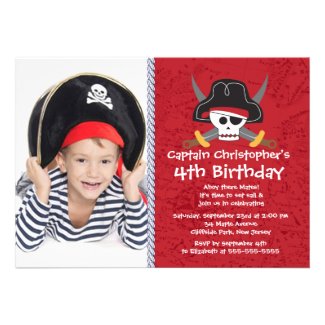 INVITATION WORDING
Don't forget to write the wording using plenty of pirate speak if you're making your own invitations.
Refer to the host/hostest as the Captain (ie Captain John invites you to...)


Work in familiar words & phrases such as:



'Ahoy me hearties!'
'X marks the spot'
'Charter a course'
'Set sail'
'Buried treasure'
'Shiver me timbers'
'Plunder', 'grog', 'grub', and 'booty'.



And don't forget to tell everyone to come in costume - as either a pirate, mermaidor princess.
PIRATE POSTAGE STAMPS
A really nice attention to detail is to embellish your invitations with personalized postage stamps. There are lots of different designs to compliment these pirate party ideas such as the ones below.
Note: These stamps are only available in the USA
Food and DRINKS
THE SHARK BITE
Ahead of your pirate birthday party, make some ice cubes out of cranberry juice and freeze a gummi shark into each one. Then serve a clear drink at the party such as Sprite, but add a few of the ice cubes to each glass when serving. Add 'Beware of the Shark' stickers to each glass then sit back and wait. As the ice cubes melt the Sprite will start to turn blood red and the gummi sharks will float to the top.
CARIBBEAN SEA WATER
Serve a Sparkling Blue Punch in a punch bowl and call it 'Caribbean Sea Water'. Pick up some shark fin ice cube trays
 so you can turn each cup of punch into a shark infested ocean. Or if you are planning on serving canned beverages you can put then into a pirate ship cooler.
TROPICAL TREASURE
Give the kids a taste of the Caribbean with a Pineapple, Coconut, and Banana Smoothie. This is a great fit for pirate party and could probably be turned into a cocktail for the adults by adding a splash of rum! Make a batch and serve it in this Skull Pitcher
.
SKULL & CROSS BONE ICE CUBES
You can use Skull & Crossbone ice cubes for other drinks to keep with the pirate party theme.
Serve grog (that's  Raspberry Punch or Citrus Lemonade to landlubbers)  with exotic Palm Tree Straws.
Get creative with pirate birthday party food too. Below are some of my favorites to follow along with the pirate theme:
Serve Gold Nuggets (just plain 'ole chicken nuggets)
Use pirate themed cookie cutters  to shape sandwiches into different shapes and call them Shark Meat Sandwiches. Also, use the cookie cutters on pizzas, cheese and fruit slices.
Make Scurvy sandwiches (subs cut into 2" pieces with a little pirate flag)
Shark Bait (goldfish)
You can also, use these skeleton cookie cutters to make 'Ginger-Dead-Men'.

If you're feeling adventurous you could carve a shark head out of watermelon or a pirate ship like the ones below. Any of these would make an amazing centerpiece for your buffet.
Games
Pirates love entertainment! There's plenty of chances to earn plunder here.
Treasure Hunt
An X marks the spot for treasure!  Using Kraft paper or brown paper grocery bags, make a big backyard treasure map, or several smaller ones,  to distribute, cutting to desired size. Then "age" it by crumpling and smoothing it back out and then rubbing a brown inkpad over the wrinkles. Draw the map by hand, using scrapbook stickers or small photos of backyard landmarks as guides. Place clues or small prizes at each stop on the treasure map.
The youngest buccaneers will have an easier time following the map if an adult or older child helps direct them. The map can take them to the next game:


Buried Treasure
Before the party, line a large, sturdy container with a garbage bag or heavy plastic. We used an inexpensive wooden chest from a local craft store, but an aluminum or heavy-duty plastic bin will work, too. Fill with inexpensive play sand (found at most local hardware stores). Bury age-appropriate favors a few inches under the sand; let some show above the surface. Provide plastic shovels or let the kids use their hands to dig. If you like, you can refill with more favors throughout the party so the kids can enjoy the fun several times.


Pin the Eye Patch on the Pirate
Help our pirate find his eye patch in this variation on pin the tail on the donkey.
Download the Pin the Patch on the Pirate images; print on letter-size white card stock. Cut out pieces. If you like, make the eyepatches sturdier by gluing them onto cardboard.
Use double-sided tape on the back of each eye patch, or roll loops of tape, sticky side out.
Blindfold each player, in turn, with a bandanna and point toward the pirate. The winner is the child who gets his or her patch closest to the pirate's eye.
Cakes