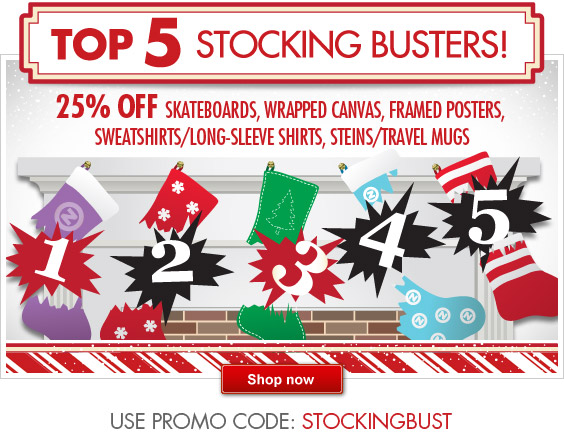 1

Skateboards

Try as you might, you just won't be able to fit a skateboard into a stocking. But the carnage left behind in trying will be a small price to pay for the joy seen in the face of the lucky recipient!


2

Wrapped Canvas

These wrapped canvas prints come ready to hang. They're hardly ideal for use in stockings, but they're sure to brighten up your loved one's room!


3

Framed Posters

A stocking makes a horrible container for a large framed poster. On the other hand, a custom framed print makes a wonderful way to adorn their wall. Give the gift of art!


4

Sweatshirts & Hoodies

Stockings do a great job of keeping your feet warm. But what about the rest of you? A custom sweatshirt or hoodie will keep them warm and cozy through those cold winter months!


5

Steins & Travel Mugs

Ok, we admit it - you could probably fit a travel mug or stein in a stocking if it's made of a stretchy material and you push really hard. But don't let that stop you from picking up a lovely custom photo mug to add a little warmth to their daily dose of coffee!

* 25% of the skateboard, wrapped canvas, framed poster print, t-shirt and mug net sale price will be deducted when one or more qualifying products are purchased and the coupon code STOCKINGBUST is applied at checkout. The net sale price is the price of the product (excluding shipping and taxes). Offer is valid until November 27, 2011 at 11:59pm PT. This offer does not apply to past purchases and may not be combined with any other Zazzle promotional or volume discount offers. This offer does not apply to screen printed apparel. If a volume discount applies to your order, you will receive either the discount set forth in this offer or the standard volume discount, whichever is greater. Offer valid on Zazzle.com only.