Exercise your right to host a sizzling
Fourth of July
celebration! Spark your inspiration with these party-planning tips.
Want to throw a sizzling-hot 4th of July party this year but worried about the hassle? Don't sweat it—organizing a party doesn't have to be a lot of hard work. These party planning tips can help you create a celebration that's easy to put together and won't be a dud. Here's how:
Jiffy party invites
Striking invitations can help build excitement for the event, and you don't have to be a professional designer to create them.
Invitations
are a snap with
BWMedia
and
Zazzle
. You can choose from a variety of pre-designed templates and make a one of a kind invitation.
For a festive touch, consider using
address labels
with a Fourth of July theme. We'll help you get the best results, every time.
Use simple items to decorate
Looking for an affordable way to decorate? Consider bringing back red or blue garland from the winter holidays and draping them from arbors and awnings. For tabletops, filling clear containers with tap water colored with red and blue food coloring, then adding white carnations. Over time, the carnations will absorb the colored water and turn red or blue. Another way to add a patriotic vibe is by picking up a bundle of small American flags from an arts and crafts store and decorating your yard or walkway by sticking the wooden dowels or rods into the ground or in planters.
Lead them to the all-American grub
What's a party without the food? And we're not talking about mystery meat or questionable cole slaw. Whether you decide to provide munchies or host a potluck, everyone will appreciate knowing what they're putting on their plate. There's no question as to what's what when each food item is clearly identified with a mini tent card using
Postcards
or
Rackcards
. These cards also make it easy to call out certain dishes, such as vegetarian plates or food that contain nuts.
We all have our own unique ways of displaying our patriotic side. Celebrate your Independence Day holiday the star-spangled way, with a little help from
BWMedia Designs
.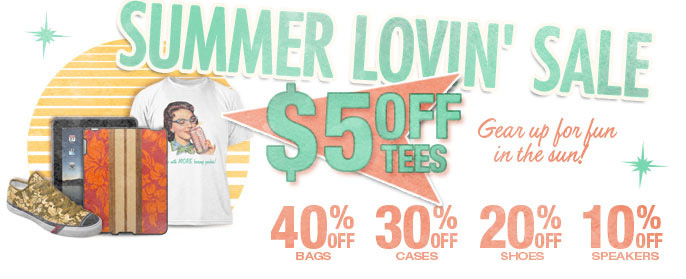 USE PROMO CODE:
SUNLOVINSALE
Summer Lovin' Sale



Get ready for fun in the sun with up to 40% off the best summer gifts. Save $5 on your favorite summer tees, or gear up for your next beach trip with a new bag for 40% off. No matter where this summer takes you, you'll get there in style with 20% off custom shoes. While you're on the road, protect your iPhone or iPad with a custom case for 30% off, or save 10% on custom speakers, and play your summer tunes everywhere. This sale ends on June 26th, so shop now, and enjoy all of your summer days...and nights!

$5 of the t-shirt net sale price, 40% of the bag net sale price, 30% of the case net sale price, 20% of the shoe net sale price, and/or 10% of speaker net sale price will be deducted when one or more Zazzle products are purchased and the coupon code SUNLOVINSALE is applied at checkout. The net sale price is the price of the product (excluding shipping and taxes). Offer does not apply to screen printed apparel. Offer is valid until June 26, 2011 at 11:59pm PT. This offer does not apply to past purchases and may not be combined with any other Zazzle promotional or volume discount offers. If a volume discount applies to your order, you will receive either the discount set forth in this offer or the standard volume discount, whichever is greater. Offer valid on Zazzle.com only.