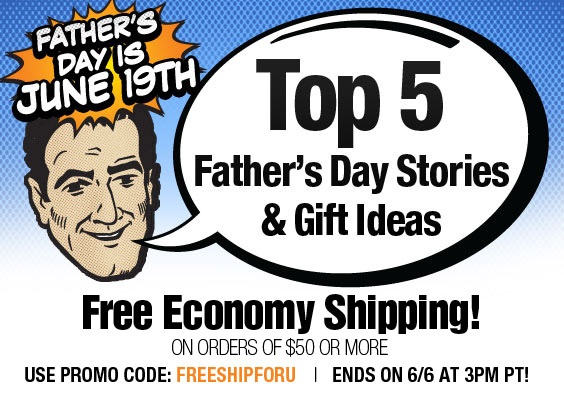 Make Him Smile

My father treated us like queens. I remember when boys would come to the house for dates. One time, this boy came in a car and beeped his horn. Well, my father went out there and told him that if he was picking up his daughter, he had to get out of the car and knock on the door! He demanded others to respect us as he did.


Support His Hobbies

My favorite memory is going fishing with my dad. We would go out the night before and get worms from the yard. We'd put them in the fridge so that they'd stay alive. Then, in the morning, we'd grab them, and we would be out fishing all day. Those were the best days.


Remember A Family Trip

A few years ago, I took my dad on a backpacking trip to Yosemite. It was the first time that he'd gone since he was a boy scout. We had an amazing time, so I took one of the pictures from our trip and put it on a poster to give to him. He LOVED it, and now he's reminded of our trip all the time!


Celebrate Your Super Dad

My dad has always been there for me - no matter what. If I need help with something, he would drop everything to help me, even if it is at 3AM or in the middle of a meeting! He is simply my hero.


Tell Dad That You Love Him

My Dad is amazing! Once, I was out with my friends, and I stayed out past my curfew. When I came back, Dad was really upset. He wouldn't say anything, but I knew it, so I made this "sorry" card for him and placed it at his side table. I thought that he would wake up and see it. Well, when I woke up in the morning, I saw the same card at my side table. It read: "I love you, but don't do it again!" *Sigh* I love him SO MUCH!!!!

* To qualify for this free shipping offer, one or more Zazzle products must be purchased with a net sale price equal to or greater than 50.00 dollars. The coupon code FREESHIPFORU must be entered during checkout to receive the offer. The free shipping offer is for economy shipping to U.S. addresses only. Offer does not apply to shoes, skateboards, custom framed prints, screen printed apparel, photo sculptures, binders, premium ornaments, or premium keychains. Shipping charges will apply to oversized orders and orders being shipped on an expedited basis or outside the U.S. Offer is valid through June 1, 2011 at 11:59pm PT. Your order must be placed during that time to qualify for this special offer. This promotional offer may not be combined with any other Zazzle promotional or discount offers. Offer valid on Zazzle.com only.